In The News
2019
Revenge Porn Bill Passes in Nassau ,Newsday, February 25th, 2019
Police: Domestic Violence A Factor In Long Island Couple's Murder-Suicide ,CBS NY February 22nd, 2019
Lawmaker Wants Criminal Background Checks for Some Hotel Workers ,Newsday, February 7th, 2019
2018
Nassau District Attorney Creates Team To Tackle Elder Abuse, LI Patch, October 29th, 2018
Safe Center To Honor Local Philanthropists At Gala, Long Island Weekly, September 29th, 2018
Pro Bono Attorney of the Month, Gail Broder Katz, Nassau Lawyer, July-August 2018, Page 20
Greentree Continues Its Good Neighbor Generosity, Elizabeth Johnson, Manhassett Press, July 22nd, 2018
Weinstein Arrest a Victory for Survivors of Sexual Abuse, News 12 Long Island, May 25th, 2018
The Gilded Cage Part II, Jacqueline Harounian, Great Neck Record, May 28th, 2018
The Gilded Cage Part I, Jacqueline Harounian, Great Neck Record, May 18th, 2018
Friedberg JCC Hosts Talk on Sexual Violence, Harassment, Peter Belfiore, LongIslandHerald.com, May 11th, 2016
USMMA Observes Sexual Assault Awareness Month, USMMA Press release, May 10th, 2018
Safe Center's Taste That Jazz, Long Island Weekly, May 9, 2018
Sex Trafficking: A Domestic Humanitarian Crisis, Humanitarian Pulse, May 1st, 2018
Building A Respectful Dating Culture For Marines, Great Neck Record, Jacqueline Harounian, May 1st, 2018
Senator Phillips Attends The Safe Center LI's 8th Annual 'Many Faces Of Family Violence Conference', LongIslandLocalNews.com, April 19th, 2018
Phillips-sponsored law barring domestic abusers from owning guns passes state legislature, Janelle Clauson, The Island NOW, April 4th, 2018
Break Free From The Ropes That Bind, Tracey Stopler, TEDxAdelphiUniversity
Safe Center Makes Strides on Long Island, Andrew Sheldon, Long Island Pulse, March 26th, 2018
Franklin square native helps tackle abuse, Ronny Reyes, Long Island Herald, March 21st, 2018
Millennial activists on Long Island: Franklin Square's Elizabeth Osowiecki, Rachel Weiss, Newsday, February 1st, 2018
Coming together to talk #MeToo at SBU, Desirée Keegan, TBRNewsmedia, January 26th, 2018
Nonprofit Programs Here to Help Those Abused, Rita J. Egan, TBR Newsmedia, January 25th, 2018
Shag Owners Join Fight Against Domestic Violence , The Roslyn News, January 4th, 2018
The Enough Abuse Campaign – Protecting Children From Sexual Abuse, Tracy Stopler, Creations Magazine, December/January 2018
2017
Helping domestic abuse victims through nutrition, Long Island herald, December 6th, 2017
Congress passes bill that bolsters sexual-assault protection at USMMA, Newsday, November 21st, 2017
Domestic Violence Victim Shares His Story, The Hofstra Chronicle, October 28th, 2017
Senator Elaine Phillips recognizes Domestic Violence Awareness Month; secures $50,000 for The Safe Center LI, The Island Now,
Olympic gymnast joins #MeToo movement, News 12, October 18th, 2017
One Love Festival Unites With Compassion, Great Neck Record,October 5th, 2017
Human trafficking on the Dark Web and Beyond, FOX 5 News, Sep 27th, 2017
Preventing Sexual Assaults, Great Neck Record, August 2nd, 2017
Senator Elaine Phillips Announces $162,185 For The Safe Center LI, The New York State Senate, August 2nd, 2017
Kings Point Police Department and The Safe Center are offering a new tool called Seek Then Speak to help more sexual assault victims engage with local recovery and reporting resources, PRWeb, May 30th, 2017
Grammy Award-winner sheds light on darkness of human trafficking, The Blaze, February 10th, 2017
County Puts Spotlight on Human Trafficking, Mineola American, January 10th, 2017
2016
Sovereign Global Donates to Local Domestic Violence Shelter & Advocacy Center, December 21st, 2016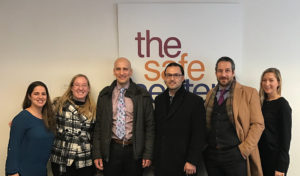 From Bystanders to Upstanders – Students Take Action Against Sexual Assault, The Box News Blog, New York Institute of Technology, December 2nd, 2016
NCSPCA Announces October is Domestic Violence Awareness Month, LongIsland.com, October 7th, 2016
Martins Delivers State Funding for Victims of Domestic Violence, Manhasett Press, July 15th, 2016
The Importance of our 'Non-Legal' Partners to the Pro Bono Cause, by Gail Broder Katz, Nassau Lawyer, The Journal of The Nassau County Bar Association, May 2016 Edition, Page 25.
Push for pet-friendly shelters for domestic violence victims , Newsday, Laura Figueroa, April 22nd, 2016
2015
DA Singas & The Safe Center Raise Awareness of Domestic Violence Hotline, Longisland.com, October 9th, 2015
For Domestic Violence Awareness Month Acting Nassau County District Attorney Madeline Singas and The Safe Center held an event to raise public awareness of the confidential 24-hour hotline which is the organization's main point of entry for most of its clients.
BJ's Wholesale Club Gives Back During Diaper Need Awareness Week, 3BL Media, Friday, October 2nd, 2015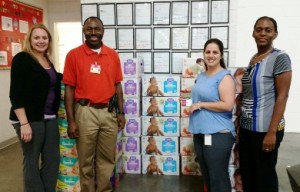 The BJ's Wholesale Club in Farmingdale, NY, participated in Diaper Need Awareness Week by presenting the Safe Center LI with more than 8,000 diapers.
Mangano Invites Residents To Join The "Walk To End Domestic Violence", LongIsland.com, September 29th, 2015
The Safe Center sponsors the 4th Annual "Walk to End Domestic Violence"
Success stories seen at Nassau's 'johns school', Newsday, June 8th, 2015
Anthony Zenkus, Director of Education at The Safe Center reports on success of 'johns school'.
Foot spas — or fronts? 24-hour massage joints on the rise in eastern Queens – PIX 11 TV, June 4th,2015
Anthony Zenkus speaks about human trafficking and nail salons.
Raising Our Kids – FIOS1, June 2nd, 2015
Anthony Zenkus of The Safe Center's Education Department speaking with anchor Christa Lauri about "abused emojis", which are downloadable emojis that help children communicate on phones or computers about their abuse.
Hofstra Law Report – Spring 2015, page 9
Sarah H. Freeman from Hofstra Law's Access to Justice partnered with The Safe Center to represent domestic abuse victims in civil legal matters.
Long Island Achievement Award from the Public Relations Professionals of Long Island
Congratulations to Sandy Oliva and Cindy Scott , co-executive directors at The Safe Center, for receiving the Long Island Achievement Award from the Public Relations Professionals of Long Island for their work in enhancing services for adult and child victims of family violence and sexual assault. Through their work we are breaking new ground and helping to transform families and communities.
Collection Drive Supported The Safe Center LI
On May 9th, Nassau County Legislator Denise Ford coordinated a collection drive with the support of the Island Park King Kullen, and supported by the amazing residents of the communities of Long Beach, Lido Beach and Island Park.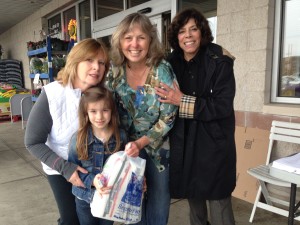 "The response was truly over whelming" said Mrs. Ford, "I want to thank everyone who donated to this very worthy organization and a special thank you to King Kullen Manager Bob Woodruff for hosting this event"!
Answering The Call of the Legal Profession – April 2015.
The Safe Center LI seeks volunteer attorneys to assist victims of domestic/dating abuse, elder abuse, and or rape/sexual assault.
CONTACT:Lois Schwaeber, Esq., 516-465-4700
First Annual Access to Justice Pro Bono Recognition Reception – April 13th, 2015
Behind the News Long Island Domestic Violence – March 18th, 2015
Host Sergio Argueta talking with Gaby Castillo (SEPA MUJER) and Anthony Zenkus (The Safe Center LI) about violence against women and what we as a community can do to prevent and respond to domestic abuse.
Just Desserts – Wednesday March 18th, Old Village Restoration
Women's History Month Event to benefit The Safe Center
Glen Cove Learns About The Safe Center LI – The Glen Cove Record, March 6th, 2015
2014
5 Days of Giving – Wednesday, December 17th – Sunday, December 21st – all on-line will be matched!
Digital Journal from our Annual Gala held at Oheka Castle on October 8th, 2014.
4th Annual Pro Bono Legal Fair – Thursday October 23rd, 2014 3:00 to 6:00 p.m.
Ferie en Favor del Bienestar Legal – Jueves, 23 Octubre 2014, De 3:00 hasta 6:30 p.m.