The Safe Center's staff of educators provide trainings that encompasses victimization, identification, assessment, intervention, and available resources for professionals working in the fields of criminal justice, health, mental health, substance abuse treatment and in the educational setting. Training is tailored to address the specific needs of the population with whom you work.
Upcoming Trainings
Continuing Education Credit Courses for Social Workers
Workshops are based on the latest research in the areas of domestic violence, child abuse, sexual assault, sex trafficking, and the effects of trauma on individuals and families.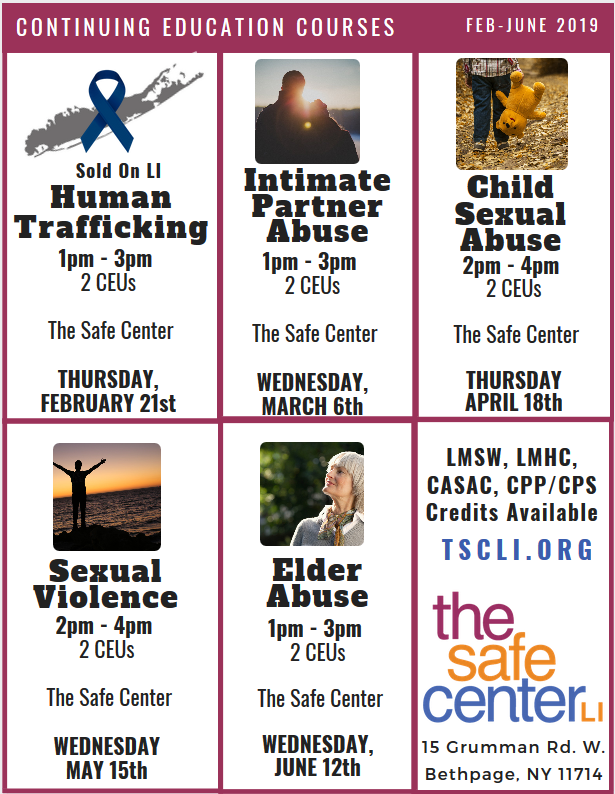 For additional information about CEU's contact: kscott@tscli.org
Mandated Reporter Trainings
Wednesday, March 13 – 1:30-3:30pm
Tuesday, March 26 – 6-8pm
Tuesday, April 16 – 6-8pm
Tuesday, May 7 – 6-8pm
Register.
Enough Abuse Trainings

(CEU's CLE's Available)
Thursday, March 14, 2019
Nassau County Bar Association
133 15th St. Mineola, NY 11501
6pm-8pm
Learn More
Register for CEU's

Additional Trainings

Rape & Sexual Assault
1 in 4 women will experience sexual assault in their lifetime. Men can be victims too. We'll discuss the emotional and physical impact of rape and sexual assault on survivors and the services available to those who have been victimized.
The Neurobiology of Trauma 2 hours
Abuse, neglect or assault can affect a person physically, mentally and emotionally. This workshop explores the brain-body connection to trauma, and what people can do to heal.
Trafficking 1.5 hours
We will explore how human sex trafficking exists in our communities and what we can do to stop it.
Trauma and Behavior 1.5 hours
This training explores the impact of childhood trauma and adversity on the cognitive, emotional and social development of individuals throughout the lifespan. Special attention will be paid to the Adverse Childhood Experiences Study, the effect that trauma has on behavior and health.
Child Sexual Abuse 1.5 hours
Our expert trainers will teach you how to identify, prevent and appropriately respond to sexual abuse at home and in the community. We will discuss warning signs of children who may have been harmed, and adults who may want to harm children. Participants will learn ways that families, groups and organizations can create safer environments in which children can learn, play and grow.
Overview of Child Abuse and Neglect Reporting for Advanced Professionals:
(This is NOT the NYS mandated reporting course)
This course is designed for professionals who have already taken the mandated child abuse reporting course and have been working in the field for a number of years. We will explore the warning signs of child abuse and neglect, the newest laws and procedures related to reporting, how to best work with child protective services and foster care, and answer any questions related to how to best work with maltreated children.
What We're Missing
Can we identify bullies before they start acting out? Could ADHD really be misdiagnosed trauma? Where does conduct disorder come from? this training will help you better understand children's difficult behaviors and what your team can do about them.
* To be notified of winter/spring 2019 CEU trainings send an email to csandez@tscli.org with "add me to your CEU list" in the subject area.
If you would like to book a training, contact our Education Department at training@tscli.org.
The Safe Center is recognized by New York state Education Department State Board for Social Work as an approved provider of continuing education for licensed social workers.