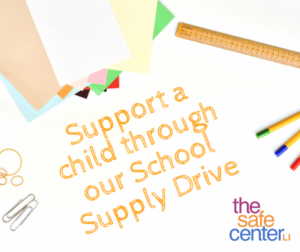 Every year, we reach out to our community to request donations that enable us to provide school supplies for our client families in need at The Safe Center. These donations help the children prepare for and look forward to the upcoming school year.
In 2016 we were able to serve almost 300 students through our school supply drive and anticipate similar demand for students in the K-12 age group this year.
In order to fulfill the unique school supply list provided to families at the start of the school year and to give our clients the dignity to shop with their children, we are asking for gift cards to be donated in lieu of supplies. Please purchase in increments of $25 or less. Suggested stores include Staples, Target, Walmart, CVS and Rite Aid due to their accessibility.
Support A Child
If you have any questions regarding our school supply drive, please do not hesitate to contact dradler@tscli.org / 516.465.9281
Thank you in advance for your generosity and support!